Cambridge bristle pad staircase helps eels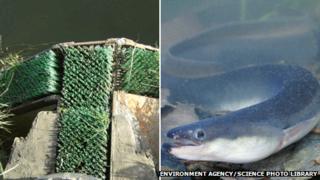 A "staircase" of bristle pads is helping eels navigate a Cambridgeshire sluice and weir.
The sluice at Jesus Green, Cambridge, had been "a real blocker for fish movements", according to Environment Agency fisheries expert Kye Jerrom.
The eel pass was added as part of the agency's flood defence repairs.
Eels are listed as critically endangered by the Convention on International Trade in Endangered Species (CITES).
Mr Jerrom said the eels used the bristle pads to climb over the wall of the sluice.
He added: "The eel and elver [young eel] use the bristles to navigate across the pads and up and over the wall of the weir - it's a bit like a staircase."
Eel numbers have plummeted to 5% of their 1980s' levels, according to the Environment Agency.
The eel pass means the sluice is now compliant with the Eel Regulations 2009, which requires all structures within watercourses to allow free passage for eels.
Mr Jerrom said: "This is a great opportunity to improve the biodiversity of the River Cam [and] actually help with an international conservation issue."
The weir at Jesus Green, Chesterton Road, is an "essential part" of the flood defences for properties along the River Cam, according to Mr Jerrom, and its refurbishment is one of the agency's ongoing programme of repairs.