Alconbury airfield homes plan backed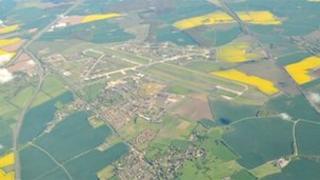 Plans for up to 5,000 homes at Alconbury airfield in Cambridgeshire are being recommended to be approved by councillors.
Developer Urban&Civic, which bought the site in 2009, has submitted its plans to Huntingdonshire District Council.
Proposals for the 1,400-acre (570 hectares) site include parks, schools and business facilities .
A report to the council's development panel recommend approval. A committee will look at the plans on Monday.
The report says the employment and housing benefits outweigh the loss of agricultural land in the development.
The reports add that a number of local parish councils expressed concerns about the plans, with Alconbury Weston Parish Council recommending refusal of the plans.
The site was established as a military airfield in 1938 and was used by both the RAF and the USAAF. Flying ceased at the airfield in 1995.