Conker lessons: Cambridgeshire school writes to parents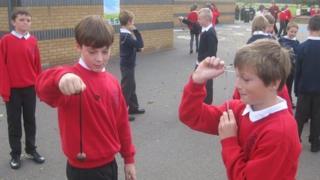 A Cambridgeshire head teacher wrote to parents about teaching their children to play conkers, after realising 95% of them did not know how.
John Cattermole, from Littleport Primary, said he had to carry out a risk assessment and check the game was safe for nut allergy sufferers first.
Conkers is not banned in schools, but some have chosen not to allow the game citing health and safety concerns.
Mr Cattermole said parents were "very supportive" and the children loved it.
He said he was inspired to introduce the game after seeing children looking at conkers on the ground, but not knowing what to do with them.
"We showed them how to play during assembly, which is when I realised about 95% of them had never had a game of conkers in their life," he said.
'Just fun'
In the letter to parents, Mr Cattermole wrote: "We believe [conkers] is a fun, healthy game to play. It is also good for hand/eye co-ordination and gets children talking about maths and numbers as they play.
"Mr Rivett and I have been showing children how to play safely in assembly today.
"We have been in touch with the Anaphylaxis Association, as we have children at school with nut allergies. They have said there is no need to worry about conkers being on a school site."
Parents were asked to fill in a slip at the foot of the letter if they did not wish their children to play conkers.
Mr Cattermole said the school had received "many, many supportive emails" after sending the letter and said not one of the 416 pupils' parents objected.
"Educationally, playing conkers has got the children talking about numbers and counting in the playground - but really it's just fun," he said.