Cambridge University student guide from 350 years ago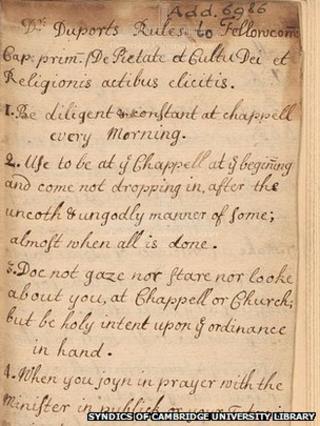 As the latest intake of students prepares to start life at Cambridge University, rules written for 17th Century freshers have been made public.
Written by Trinity College fellow James Duport in 1660, they include advice on dressing "soberly" and making "honest" rather than "scurrilous" friends.
Duport also advised avoiding football, a game for "clownes not schollers".
Today's students are pointed towards student union guides and videos posted by the university on YouTube.
Duport's rules were written for a very different student body, often two years younger than today's undergraduates.
'Violent and stirring tennis'
The university was also rooted in religion, with lessons taught in Latin and Greek.
Duport's guidance concentrated on what he considered "proper behaviour" for the young male scholars in his care.
They were told to turn up to prayers on time, and "come not dropping in (after the uncouth and ungodly manner of some) when almost all is done".
Sunday was not a day for lying in, with students advised to "spend the Lord's day wholly in religious duties".
Sport was also to be carefully considered, with Duport considering football a "rude" exercise.
Tennis was slightly more acceptable, but he said: "Use tennis sparingly and never immediately after meales, it being then too violent and too stirring."
Some of the rules were designed to keep the young men in check, with advice on "not gadding and gossiping from chamber to chamber", or "picking your nose" in the company of tutors, a habit Duport regarded as "uncouth and unseemly".
Students taking up their places at the university this week are shown films about life both at the university, and in the city, including its pubs and culture.
Duport's students, however, were told to avoid the city at all costs.
"Never go into the town, except to ye church or schools or book-seller or book-binder's shop," he said.
Some rules perhaps remain pertinent for students 350 years after Duport wrote them.
"Write frequently to your parents and friends, to ye former especially if you know they desire you and expect it."