Cambridgeshire fire chief denies 'feathering his nest'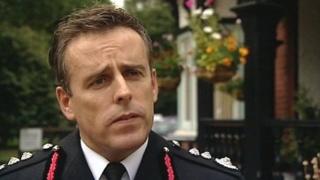 A fire chief who returned to the job he retired from only a month earlier has justified the move, denying he was "feathering his nest".
Graham Stagg left Cambridgeshire Fire and Rescue Service in September but returned last week on his old salary.
He has yet to comment publicly, but in a blog post on the brigade's intranet site, given to the BBC, he said he wanted to "put the record straight".
He said his return to the job followed government guidance and advice.
But he admitted it could had been better communicated by the brigade.
'Rumour and speculation'
Firefighters had been unaware that he had retired in the first place and the Fire Brigades Union (FBU) said his return at a time when frontline staff stood to lose salary and pension was "insensitive" and "grossly unfair".
In his blog, Mr Stagg wrote: "It is not unusual following the re-appointment of senior staff for questions to be raised about the integrity and value of the process, particularly when rumour and speculation lead to suggestions that the person re-engaged is taking an annual salary and pension from the public purse.
"It is also perfectly normal for there to be an assumption that senior staff are feathering their nests using a means unavailable to other staff in the organisation."
Mr Stagg, who was believed to be on a total salary, including pension, in excess of £200,000, said Cambridgeshire and Peterborough Fire Authority's retirement policy allowed uniformed staff of any rank to be "re-engaged" if certain criteria were met.
Eight officers, ranging from firefighter to chief fire officer, had been re-engaged, he said.
Mr Stagg said he had returned on identical terms and conditions, but was no longer a member of an employer-sponsored pension scheme and was on a three-year, fixed-term contract.
"As my salary is the same the entirety of my annual pension goes into abatement, meaning it is not paid. So I earn the same, not a penny more, not a penny less," he wrote.
'No right time'
He said it offered financial benefits for both employer and employee.
Addressing the FBU's criticism, he said the timing of his return had been agreed months before last week's firefighters' strike over a pension dispute.
"Yes, it could have been done differently, and it might have had better outcomes," he said.
But there was "never going to be a right time" to make an announcement, he added.
Sir Peter Brown, chairman of Cambridgeshire and Peterborough Fire Authority, said: "I believe that the decision was the right one and it's a good deal for the fire authority.
"Overall it saves us £55,000 a year, which is good news for the authority."