Cambridge Arts Picturehouse campaigners hold public meeting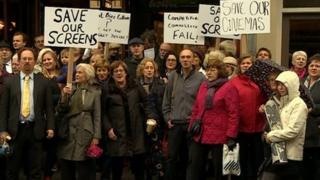 Dozens of people opposed to a proposal to sell a Cambridge cinema held a public protest meeting on Wednesday.
The Arts Picturehouse cinema in the city could close after owner Cineworld was told by the Competition Commission it must sell one of its two venues.
Almost 14,000 people signed an online petition to keep the Picturehouse, which is on St Andrew's Street, open.
Cineworld said a decision on whether to sell the Cambridge Picturehouse or its Cineworld multiplex had not been made.
It has already agreed to sell two other Picturehouses - in Bury St Edmunds in Suffolk, and Aberdeen - after the Competition Commission report.
'Ill-informed ideas'
Alasdair Smith, from the commission, said: "I'm very sorry that a lot of the coverage of this issue, particularly in Cambridge, has implied that we're seeking to close down a cinema.
"That's absolutely not what we want to do. We want to increase competition."
However, Arts Picturehouse campaigner Becky Innes, said: "[Mr Smith] may not be talking about forcing a cinema to close, and he may claim the venues could continue as cinemas, but that doesn't guarantee the Arts Picturehouse will continue as the vital and thriving community space it has been for nearly 30 years.
"It's one of the most successful independent cinemas outside London which is why it's so ludicrous to even consider changing it."
Campaigners did not see Cineworld as "the bad guys", she said, and the meeting was called to try to persuade the Competition Commission to reverse its decision.
"We're looking for the commission to admit they're wrong," Ms Innes said.
"[The meeting] is about making some noise and trying to get the message through to the commission yet again that we think they need to reconsider their ill-formed ideas."
The group has the support of Cambridge Liberal Democrat MP Julian Huppert, who has pledged to raise questions in Parliament.