Lost Cambridgeshire parrot found on pony's back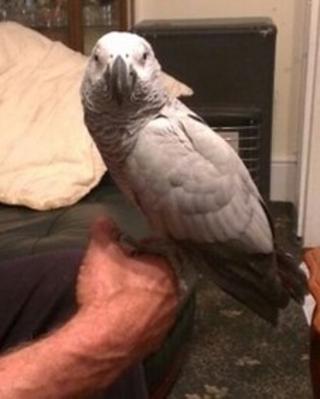 A pet parrot, which was missing for a week in Cambridgeshire, was found perched on a pony's back eight miles away.
Randy, seven, went missing on 18 September from owner Jean Hall's house in Little Paxton near St Neots.
After poster appeals, the African grey was found at a stables in Alconbury a week later and returned to her owner.
Ms Hall said: "I can't imagine why she landed on a pony, unless she was just exhausted."
The owner said Randy managed to unlock a catch on her cage and flew out of a door.
She was spotted and heard at nearby Paxton Pits in the following days, but did not respond when Ms Hall took her feeding tray to the nature reserve.
'Very hungry'
Ms Hall said: "We didn't think she'd get very far because she'd never really flown before."
She was found sitting on the back of a pony in a private paddock about 8 miles (13km) up the A1.
The woman who found her took her to another woman in Alconbury who kept parrots and she then got in touch with Ms Hall after reading about Randy's disappearance in the media.
"She was very hungry and very thin because I don't think she'd had much to eat, but we were delighted to get her back - she's one of the family." said Ms Hall.
"I've no idea what the horse made of it."
Ms Hall said she thought Randy was "traumatised" because she was not talking as much as she used to, but she had asked her "what are you doing?" since arriving back home.