Eight Cambridgeshire cannabis gang members are jailed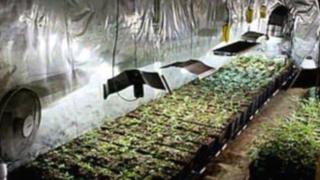 Eight men who made about £10m growing cannabis "on an industrial scale" in Cambridgeshire have been jailed.
The factory at Tree Farm in Haddenham, was raided by police on 8 July, 2010.
Ringleader Kevin Hart, 43, of Elm Close, Huntingdon was jailed for 10 years in March 2012 and ordered to pay back more than £1m.
The case could not be reported until the final gang member, Neil Badcock, 45, of Linden Way, Haddenham was jailed for seven years earlier this week.
Cambridgeshire Police said at the time it was discovered, the farm was the largest cannabis factory ever discovered in the county and "one of the most professional set-ups found in England and Wales".
'Organised and professional'
More than 7,500 plants were found with a street value of £1.75m and a yearly yield of about £8m.
Eight people were charged with conspiracy to produce cannabis.
Hart, who managed the farm, pleaded guilty last year.
A proceeds of crime investigation found he had made about £8.5m from the venture, but claimed he could not pay it back.
He was ordered to pay £1m.
Six further people pleaded guilty and were sentenced at Cambridge Crown Court in August 2011.
They were jailed for between two-and-a-half and four years.
Badcock, whose trial concluded on Tuesday, pleaded not guilty, but was found guilty by a jury.
Det Insp Craig Harrison said the factory was run as a business with a clear and defined management structure, with staff paid wages depending on their role and responsibilities.