Cambridge University 'salacious' Latin court records translated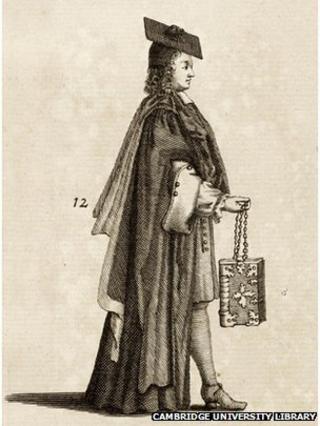 Telling someone they had "a turd in their teeth" or suggesting their wife had had sex before marriage were once punishable offences, newly-translated Cambridge court records reveal.
The Latin records date from the 16th Century when the university courts tried some cases in the city.
They also include "lots of salacious details about one particular adultery case", archivist Jacky Cox said.
About 4,000 cases have been summarised so far as part of an online project.
Cambridge University's Chancellor's Court had wide-ranging powers during the 16th and 17th Centuries for criminal and civil cases as well as ecclesiastical matters.
'Scurvy queane'
For major offences, it could suspend the guilty from degrees, imprison or inflict corporal punishment.
For lesser misdemeanours, it could impose fines, "bonds for good behaviour" or insist on public apologies.
Another court heard cases involving academics and others below master's level.
Ms Cox worked for a year to summarise a selection of the papers and put them online.
"The courts had the right not only to sort out disputes among its own members but also among townspeople - certainly individuals who offered services to the university," she said.
"For reasons of cost and speed many townspeople brought their disputes to the university.
"Some of them were quite petty, others more serious."
Common disputes involved defamation and insults. Although the court records are in Latin, "injurious words" were recorded in English, Ms Cox said.
These included an academic claiming a college butler said he had "a turd in his teeth" - a common insult in the 17th Century.
Another academic was charged with calling a colleague's wife a "scurvy queane" and accusing her of having sex before marriage.
Adultery case
In the early 17th Century, it is estimated at least 600 cases a year came through the university's courts.
"The records have been part of our archive for centuries, but it's only recently that we've been able to produce detailed catalogue descriptions that we hope will make them more accessible," Ms Cox said.
In one adultery case, love letters sent from a lecturer to the wife of another academic were included in the evidence.
"It appears the husband had found them, torn some up then put them back together, writing words such as 'knave' in the margin," Ms Cox said.
"There are details about how a neighbour saw the accused staying with his lover overnight, and how they were seen being 'naughty together', and 'her without any hose on and with her petticoats unlaced' - so lots of salacious detail."
The records are now available at the university library.