Cambridgeshire fire chief return 'insensitive' says FBU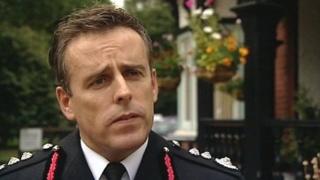 The return of a fire chief to a job he retired from only a month ago has been branded "insensitive" by the Fire Brigades Union (FBU).
Graham Stagg left Cambridgeshire Fire and Rescue Service in September and returned on Tuesday on his old salary.
Keith Handscomb from the FBU called it "grossly unfair" when firefighters stand to lose salary and pension.
Deputy chief Chris Strickland said the move provided "stability" and Mr Stagg would not receive new pension payments.
Last week firefighters in England and Wales staged a four-hour strike in a dispute over pensions and government plans to make members work up to the age of 60.
Cambridgeshire Fire Service said the Fire Authority agreed 18 months ago to allow the chief fire officer - who was believed to be on a total salary, including pension, in excess of £200,000 - to continue working after his retirement.
'Grossly unfair'
It said Mr Stagg returned on Tuesday after leaving for one month unpaid.
During the month away, other members of the senior management team were temporarily promoted to cover the absence.
Mr Handscomb said: "The timing of this could not be more insensitive and it creates the impression of a cosy relationship at the top with not only jobs for the boys, but a pension too.
"This contrasts starkly with current government proposals for firefighters, which the government's own evidence says will see two-thirds of firefighters face the sack with no job and no pension due to the unrealistic challenge of maintaining the high standards of fitness needed up to the age of 60.
"It seems grossly unfair if senior officers today can claim both pension and salary when so many firefighters serving on the frontline stand to lose both."
Mr Strickland said: "The benefits are that the Fire Authority is able to keep the stability of its senior management team during what is a very difficult time for the service.
"It will also mean that the Fire Authority will no longer have to pay pension contributions for the chief fire officer, thereby saving money.
"The chief fire officer will return on his existing salary and will not receive additional monthly pension payments."
As of June, the fire service had achieved £4.2m in budget savings and cut 65 jobs as part of its cost-cutting measures.