Apple apps criticised after Cambridgeshire twins rack up £1,000 bill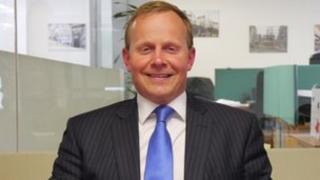 A father has called for legislation to make it more difficult to download pay-in-game apps after his twins racked up almost £1,000 playing on an iPad.
Ashley Griffiths' six-year-olds purchased virtual pets and clothes for two games over two days, at their home in St Ives, Cambridgeshire.
They used a password to buy the extras, but Mr Griffiths said app designers should also demand a credit card.
Apple has now refunded the full £979.90 to his account as a goodwill gesture.
"We started getting emails from Apple last Sunday evening, and my wife said, 'I don't think you're going to like this - it looks like the kids have been downloading stuff'," Mr Griffiths said.
'Shocked'
The following day he discovered the twins - a boy and girl - had downloaded "dozens" of extras for the games.
"When I looked closely there were four pages of purchases.
"Some started at £2.50, but they went up to £75.
"Children don't understand the value of money, they just see it as a way of collecting more pets and clothes for characters in the games," Mr Griffiths said.
"I mean, who in their right mind is going to pay £75 for a virtual pet?"
Mr Griffiths said his children had the password because they used the iPad for both schoolwork and games.
"We've never had any problem before, but we have now reset the password," he said.
He said he was "shocked" at the ease with which his children were able to spend that much money.
"They were just prompted to enter the password, and that's what they kept doing," Mr Griffiths said.
"These games are aimed at children and the designers know exactly what's going to happen.
"There should be measures in place to prevent this, such as asking for credit card details."
Last week the Office for Fair Trading (OFT) proposed new guidelines for developers amid concerns about in-game charges.
No one from Apple was available to comment.