Lister sports cars set to return after surprise Cambridge find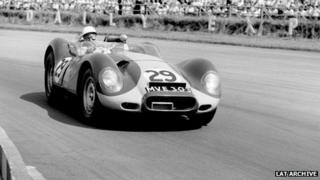 It began with the discovery of "mothballed" vehicle parts in a Cambridge factory and has blossomed into a plan to bring a classic British racing car back into production.
The Lister "Knobbly" Jaguar was known as a "giant killer" in the 1950s, reaching speeds of up to 180mph and regularly outpacing its Ferrari, Maserati and Jaguar rivals.
Designed by 27-year-old Brian Lister at his father George's engineering company, it was entered into 14 races in 1957.
In the process of winning 11 of those races, it also broke the lap record at every single track with driver Archie Scott Brown at the wheel.
The company built about 50 "Knobblys" between 1957 and 1959, before concentrating on models like the Jaguar XJS Lister.
They constructed a further four for the engineering firm's centenary in 1990, when the last Lister rolled off the Cambridge production line.
Now Lancashire businessman Lawrence Whittaker, along with his father, has invested the money to bring it back into production.
He said of the cars phenomenal success in the 50s: "That would be like entering a car that you had just built yourself, with no massive car knowledge, at your father's engineering plant, in to Formula One and winning the constructors championship in your first season."
It was a "fairytale come true", said Mr Whittaker.
Now, in true Lister family style, the two self-confessed "car nuts" are set to bring their own dreams to life.
'Car mad'
Their journey began when Mr Whittaker Sr decided to take a back seat in the family-run insurance business and started "messing about with classic cars".
His son Lawrence, from Accrington, said: "He bought an original 1958 Lister which needed restoration but he found most parts were either difficult to get or obsolete."
The pair rang the George Lister company to see if they had blueprints or parts and they were invited to visit the factory, now used to make fridges.
"We found they had all these 1958/59 parts and blueprints, which had basically been mothballed. They didn't even know what they had and no-one had ever contacted them about it," said Lawrence.
The "excited" family wanted to buy them to make new parts from but, while they were owned by the Lister factory, the intellectual property had belonged to Laurence Pearce since 1993.
Mr Pearce, who had been working under the Lister name before buying the company, had continued the marque outside Cambridge, building cars such as the Lister Storm and the LMP, the latter still racing up to 2006.
"It turned into a bigger mission that we had thought, but running a warranty company is mostly unchallenging and an opportunity to buy a car company was so exciting we thought we would go for it - we are car mad," said Mr Whittaker.
Ten months later, and in a new state-of-the-art facility in Cambridge, they are preparing to deliver a near exact reproduction of the 1958 car.
They ended up flying to Portugal to negotiate the sale of the rights, worth "quite a lot of money", with Mr Pearce.
Mr Whittaker did not reveal how much it cost, but did say that by 2015, Lister's 125th anniversary, the pair will have invested an eight-figure sum of their own money into the new Lister Motor Company Limited.
The working drawings and manufacturing templates have been re-commissioned, and the company has contracted all of them back to George Lister Engineering to rebuild the brand.
Many of the original team have been called back into service - Graham Hutton still works for the company, Colin Crisp, has been brought out of retirement to be a consultant and Laurence Pearce will also be involved.
Brian Lister, 87, has now retired but is following the project with interest because even though other Lister cars have been built since 1959, it is "the original cars that most people are interested in".
"I am very proud they are working to bring it back because it had such a marvellous history," he said.
"I am very glad people feel it is justified to spend the time and effort on it."
'Passionate undertaking'
Ten new jobs have already been created and they hope that by 2015, they have created about 50 more.
They plan to build six cars a year, with the first three completed by March 2014, race-ready and built to Federation Internationale de l'Automobile (FIA) / Historic Technical Passports (HTP) racing specification, known as Appendix K.
Original models sell for between £800,000 and £2m but Mr Whittaker said the new models will cost "less than half" that amount.
"It was a powerful, giant-killing racing car in its heyday," he said.
"In 1958, they were winning anything, so they have a good chance of winning the Stirling Moss Trophy - a series of races for historic cars."
He admits they are taking a chance, but say they are used to that because the warranty business is "a risk on every level".
"We see this as an adventure, this is a passionate undertaking for us," he said.
"I am super proud, I can't tell you how excited I am about the future."