Cuts leave services on 'cliff edge' claim Labour in Cambridge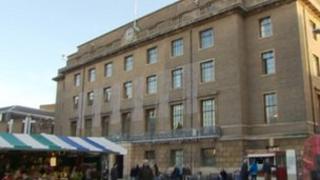 The need for savings of £6.3m could leave Cambridge City Council services "teetering on the edge of the cliff", the opposition Labour group has warned.
The council has announced it has to save 30% of its total budget over the next four years.
Tim Bick, leader of the Lib Dem-controlled council, said the savings were required because of drop in its government grant.
Labour leader Lewis Herbert said he was concerned at the "unprecedented" cuts.
'Smaller council'
Mr Bick said the pressure on local government finance meant the council had to look at new ways of working as the government grant was about £100,000 less than expected next year, and £1m less the following year.
"Organisationally the city council is likely to be smaller and, on its own, doing less."
He said they would be forced to find ways of improving their working with other public agencies using such techniques as "community budgeting," he said.
Mr Bick added that some services such as art, leisure and community development had to accept a focus on activities that could not be supported by the community itself and to prioritise areas where local authority input could make the crucial difference.
Mr Herbert said: "Cambridge is crucial to the economic success of the region but underpinning that are all those who live and work in the city and our priority as a council must be to protect core services and the most vulnerable. "
He added: "Labour will be examining every single budget line against those priorities."