Andrew Collings' River Cam death: Inquest hears boy was not strong swimmer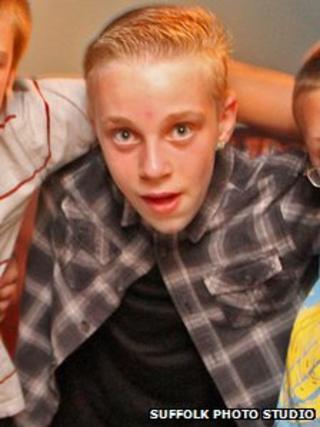 A 12-year-old boy from Cambridge who drowned in a river while playing with friends in the summer heat was not a strong swimmer, an inquest has heard.
Friends said they checked Andrew Collings was confident to go into the River Cam, at Lammas Land in Cambridge, but he got into trouble.
His body was found by underwater search teams the next day, on 28 August.
Coroner Samuel Bass recorded a verdict of accidental death at the inquest in Huntingdon and said it was a "tragedy".
A friend said in a police statement: "We were daring each other to jump into the water and, because Andy was not a strong swimmer, he tried to go into the water from the side.
"We all jumped in and he followed from the side.
"He could swim but not very well."
Call for help
Fisherman Alvin Dellar had watched the children playing at about 18:00 BST.
He saw the Netherall School pupil get his foot caught but thought it was a prank until the boy began calling for help.
His friends tried to save him and members of a nearby canoe club helped.
When emergency services arrived the water was so churned up a police helicopter could not find him in an aerial search.
The inquest heard swimming was not banned in the river and there were no lifebuoys.
There is a swimming pool nearby and the stretch is popular with river swimmers.
Mr Bass said he would consider writing to the council to ask about installing life-saving equipment in the area.
He said: "It looks like this was an absolute tragedy.
"These children were just enjoying themselves.
"It seems like everybody did everything they could to help him."
Andrew's family did not attend the inquest.