Two people injured after horse "spooked" by car bolts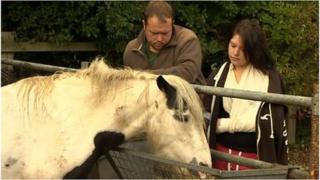 Two people were injured and a horse ended up with its head through a windscreen when it bolted after being "spooked" by a car, police have said.
Smithy, the horse, was pulling James and Penny Matthews in a carriage in Barton, Cambridgeshire, on Friday.
They said a driver "deliberately spooked" the horse by revving the car engine and shouting abuse.
Police said it was a "terrifying incident" and want to speak to the driver of the car.
The vehicle is described as a small red or orange hatchback.
'Bombproof horse'
Mr Matthews, a 25-year-old farrier, said: "The driver had been following us, so I turned off into High Street but he just stayed there.
"He wouldn't overtake, he just kept revving the car up and shouting abuse.
"I asked him to stop and drive past, but he wouldn't, and then the horse just took off.
"It was terrifying. We were heading full-pelt towards another car, and you just don't know what's going to happen."
His sister Penny, 18, said: "It took both of us to hold the reins because Smithy was going at about 30mph (50km/h).
"I could see the on-coming car, and I just closed my eyes and hoped for the best."
The horse ended up with his head through the windscreen of a parked car, and suffered cuts to his face and leg.
The carriage broke apart on impact with the other vehicles.
Mr Matthews escaped with minor injuries but his sister suffered a broken elbow and ribs, and cuts caused by broken metal on the cart.
Mr Matthews said his horse was used to heavy traffic and they had never had any problems before.
They described Smithy as "bombproof" before the accident, but was now nervous around them.
"I don't know if he will ever be able to go back on the roads again, after this," Mr Matthews said.
PC Kieran Watts, from Cambridgeshire Police, said: "This was a terrifying incident for the passengers in the carriage.
"We are very keen to speak to the driver of the car involved."