Huge crisp bag 'breaks world record'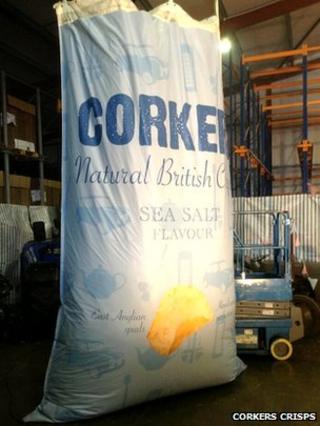 A Cambridgeshire food company says it has set a new world record for making the biggest ever packet of crisps.
Corkers Crisps, based at Little Downham, near Ely, said it filled a bag almost as tall as a house with more than a tonne of its potato snacks.
The feat is said to more than double a previous record set in Japan last summer.
Managing director Rod Garnham said it was a "huge amount of hard work", taking more than 20 hours to complete.
Fried at night
Mr Garnham said the attempt started on Thursday evening, with staff taking turns to sleep in hammocks that had been set up at the firm's Willow Farm site.
The sea-salt flavoured crisps were fried during the night and loaded on to a lift before being dropped into the bag, which is 18ft (5.5m) high.
The final recorded weight was 1,140kg (2,513lb), Mr Garnham said.
"As is normal with a world record attempt, we've had a few issues," he said. "The first bag attempt failed and broke.
"It is big - if you stood in the top window of your house and looked out, it would be higher than that."
Mr Garnham said the attempt had been adjudicated by Guinness World Records and he was expecting the record to be officially verified in a fortnight.
Money raised in the attempt will go to the Liam Fairhurst Foundation, which helps young cancer patients.