Cambridgeshire world record bid for biggest bag of crisps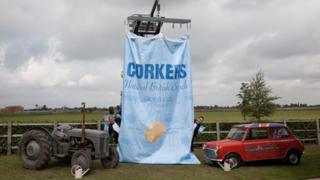 A food company in Cambridgeshire hopes to set a new world record by producing the biggest ever packet of crisps.
Corkers Crisps, based at Little Downham, near Ely, wants to fill a bag almost as tall as a house with a tonne (1,000 kg) of its potato snacks.
It will start its attempt in the early hours of Friday to smash the current world record set in Japan in July 2012 for a half tonne (500kg) bag.
Organisers said they expect the attempt to take about 14 hours.
Managing director Rod Garnham said preparations had been "fraught" but added "if it was easy it wouldn't be a world record".
The tonne of sea salt-flavoured crisps will be specially made on Thursday night by factory staff on the firm's Willow Farm site.
As soon as they are fried they will be put on an elevator and dropped into the bag, which is 18ft (5.5m) high.
Mr Garnham said: "As is normal with a world record attempt, we've had a few issues.
"The first bag attempt failed and broke. It is big - if you stood in the top window of your house and looked out, it would be higher than that."
Members of the public should be able to see the giant filled bag at Willow Farm's open day on Saturday.
Money raised will go to the Liam Fairhurst Foundation, which helps young cancer sufferers.