Whittlesey cannabis factory find's value doubled to £4m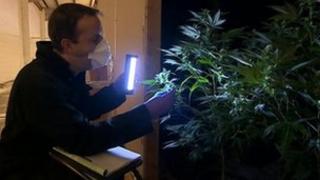 A cannabis factory thought to have contained plants worth £2m is five times larger than originally thought, Cambridgeshire Police said.
Officers now believe the Lattersey Hill factory in Whittlesey, contained an estimated £3.9m worth of the drug, after counting 4, 741 plants.
Uncovered on Monday, the force believes it is the largest cannabis factory ever found in the county.
No arrests have been made and police have appealed for information.
The factory was discovered after a member of the public reported the door to the unit had been left ajar.
Det Sgt Matt Swash, of Cambridgeshire Police, described it as a "well-organised and very significant set-up".
"Given the size of this, it's more likely to be a supply for the wider region," he said. "This is not a set-up for the local community."