Cambridge park and ride charge 'undemocratic', say councillors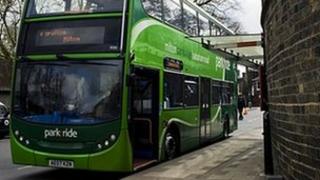 A decision to introduce a charge for parking at Cambridge's five park and ride sites has been challenged as undemocratic by some councillors.
Members of the Conservative-led county council voted unanimously to introduce a £1 charge for vehicles from January.
However, the Liberal Democrats want a public consultation as they say the decision came "out of the blue".
Councillor David Jenkins said: "They have not consulted properly and have not addressed associated risks."
It costs the council in excess of £1m a year to run the sites at Milton, Babraham Road, Madingley Road, Newmarket Road and Trumpington. The bus service is operated commercially by Stagecoach.
'Spending gap'
The council estimates the £1 charge could generate about £1.5m per year.
Mr Jenkins said: "The Tories are rushing this through because they want the money to plug a spending gap."
But Conservative councillor Mac McGuire, cabinet member for highways and infrastructure, said non-park and ride customers were benefiting from the free parking.
"A lot of people park there, then walk or cycle in," he said.
"Is it right that the taxpayer should be funding what is effectively workplace parking?"
Councillor Paul Sales, leader of the council's Labour group, said if the Conservatives went ahead with the charge, all councillors should be charged for parking at the authority's offices at Shire Hall, which is currently free.
Mr Curtis said he expected the park and ride decision to be called in for "further scrutiny" at a council meeting on Thursday.