Great Ouse wildlife to benefit from new Coveney habitat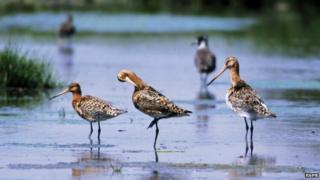 Plans have been granted to create a new network of wildlife habitats around the Great Ouse and Fens in Cambridgeshire.
The Environment Agency (EA) project will eventually develop 200 hectares (494 acres) of arable farmland into grassy wetland at Coveney near Ely.
Ground water levels will be raised and a new lake will be created to store water over the drier summer months.
The scheme will help wildlife "thrive in this internationally important wetland", said an EA spokesman.
The Ouse Washes covers an area of 1,900 hectares (4,695 acres) in Cambridgeshire and Norfolk.
Created in the 17th Century in an effort to drain the Fens, the washes are still vital as a flood storage area for the River Great Ouse protecting more than 800 properties from serious flooding.
They have become an important refuge for species of birds including snipe, black-tailed godwit, ruff and wigeon.
The first phase of construction is expected to begin in spring 2014.