Stephen Mark Durber named as A47 crash victim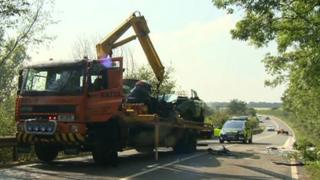 A man killed in a car crash on the A47 in Cambridgeshire in which a woman also died has been named.
Stephen Mark Durber, 30, of Princes Road, in Fletton, Peterborough, was driving a Ford Focus when it was involved in a collision on 25 August.
Samantha Jayne Durber, 27, also died after the crash, close to Sacrewell Farm, near Peterborough.
A three-year-old boy in the car remains in a critical but stable condition in hospital, police said.