Burwell fatal bungalow fire caused by 'smoking materials'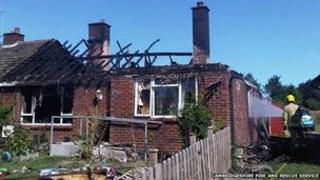 A fire that swept through a Cambridgeshire bungalow killing a young woman may have been caused by a cigarette or lighter, the fire service has said.
The blaze in Hawthorn Way, Burwell, took hold on Saturday morning. A body was found soon afterwards.
An investigation concluded the fire was accidental.
"The most likely cause... was "smoking materials", a spokesman said. No one else was injured in the blaze.
Neighbours described the woman as "bedridden and unable to walk" and said they believed she may have had multiple sclerosis.