Ely's court may reopen as council offices by 2014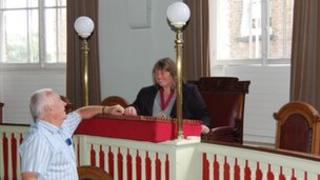 A former magistrates' courtroom in Cambridgeshire could reopen as a council chamber by early 2014.
Ely's 190-year-old Grade II-listed court was bought from the Ministry of Justice by the City of Ely Council for £1 in March.
The council hopes the neighbouring museum will consider running tours of the courtroom and cells.
Councillor John Yates said the purchase gave the city council a permanent home "not subject to any future rent hikes".
He added: "We're employing an architect to help us put together a brief, all these things do take time, but it'll probably be [open] by sometime early in the new year."
The city council plans to use the courtroom as its council chamber and offer its extra rooms for use by community groups or charities.
It currently rents rooms from East Cambridgeshire District Council and while Mr Yates would not disclose how much it pays, he said it was "a significant amount".