Cambridge homeless couple deaths: Further tests needed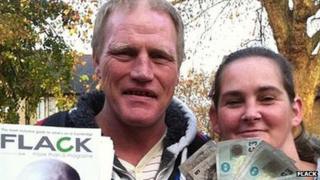 Further tests are needed to ascertain how a homeless Cambridge couple died.
Kim Louise Reid, 35, of Willingham in Cambridgeshire, and James Sinclair, 45, of no fixed abode, died on the banks of the River Cam in Chesterton on 16 July.
It is thought the couple, who were due to marry this month, may have taken drugs before they died.
An inquest was opened and adjourned on Monday, with the provisional cause of death given as "unascertained pending further enquiries".
Ms Reid and Mr Sinclair became ill near Jesus Green lock in the early afternoon of 16 July.
They were treated by paramedics but died at the scene.
Ch Insp Chris Balmer, from Cambridgeshire Police, said: "On initial evidence we are linking [their] deaths to substance misuse."
Eight people - including Ms Reid and Mr Sinclair - are thought to have taken a substance which may have been PMA the day they died.
PMA is known to cause extremely high temperatures, hallucinations and convulsions.
Following their deaths, supporters of the homeless community rallied around to raise funds to enable the couple to be buried together.
Their deaths continue to be treated as unexplained by police.
The inquest will be resumed at a later date.
AMENDMENT: Earlier versions of this story indicated that PMA is a so-called "legal high", based on information from Cambridgeshire Police. However, PMA is classified as a class A drug. The story has been updated to reflect this.