'Dutch stowaway' ferret in Cambridge turns out to be Lithuanian 'Freddie'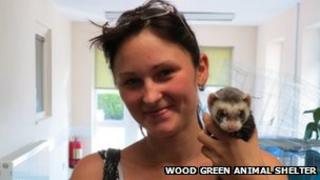 A ferret thought to have stowed away on a Dutch aircraft to Cambridge, has turned out to be from Lithuania, and lives with a family in the city.
Animal shelter staff named him Vincent after he was found near a Dutch plane in a hangar at the city's airport.
His microchip showed he was born in the Netherlands and an appeal was made to find where in the country he was from.
His owner Diana Bijanskiene, who bought him in Lithuania, has now reclaimed "Freddie" and taken him home.
'Remarkable' ferret feat
Terry Holloway, from Marshall Aerospace, said when staff found the ferret sitting underneath the Dutch Air Force Hercules and were told he was registered in the Netherlands, they "put two and two together and thought they had come up with four".
It appears that Freddie made his way to the airport under his own steam from his home about one mile (1.6km) away in Peverel Road.
Mr Holloway said: "We run flights to the Netherlands from Cambridge International Airport and we think Freddie was trying to make it back home.
"He actually undertook a far more hazardous journey getting here than if he had stowed away on an aircraft," he added.
"Freddie had to cross a main road, get across the airfield where he might have fallen prey to foxes or hawks, and then negotiate our very busy runway.
"It's actually quite remarkable that he made it unscathed."
Mrs Bijanskiene said she and her husband were delighted to be reunited with Freddie, who they brought over to England on a ferry using a pet passport.
"I was crying for days after he escaped," Mrs Bijanskiene said.
"I thought I would never see him again. We put leaflets up on trees in the neighbourhood but heard nothing."
Marie Channer, from Wood Green Animal Shelter in Cambridgeshire, said: "Freddie is clearly much loved by his owners, but this story does carry a serious message about keeping your pet's microchip details up to date.
"Had Freddie's details been updated, we could have returned him much sooner."