Cambridge Mill Road chalk graffiti charts scientists' community data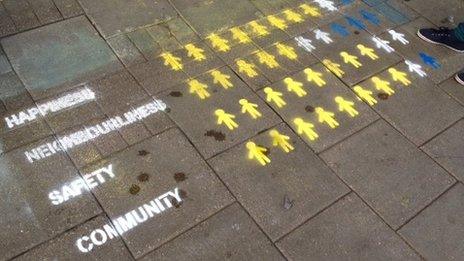 Chalk graffiti has been popping up on a Cambridge street as part of a project run by two computer scientists.
Lisa Koeman and Vaiva Kalnikaite, from University College London (UCL), are collecting "community data" and presenting it as street art.
The Visualising Mill Road project uses electronic keypads to ask questions about people and the local area.
The pair said the graffiti charts are an experiment in "how people react to different ways of presenting data".
They chose the Mill Road area because Dr Kalnikaite lives nearby.
Miss Koeman said: "It is a very vibrant place and we wanted to find out how connected the community is, how safe they feel, and how well they know their neighbours - if at all.
"It's the perfect area for this kind of visualisation."
Electronic keypads have been installed in 18 businesses along the road, and every other day the pair post a new question which they invite shoppers to answer.
Questions such as "How are you feeling today?" can be answered using three "smiley face" buttons on the keypad.
The buttons represent a positive, neutral or negative response.
"With the aggregated data we produce graphs in the different colours of the buttons," Miss Koeman said.
By mixing artwork with technology, the researchers said they hope to find new ways to engage the public with their work.
"We are focusing on both ends of the street, which is divided by a railway bridge," Miss Koeman said.
"We will compare one community with the other, as residents have a strong identity with the part of the road they are from."
She added: "Currently we're seeing differences between 'neighbourliness' and 'happiness', but 'community spirit' seems pretty high on both sides."
The project ends shortly and a summary graph will be drawn on the bridge.
The research is funded by Intel and the Engineering and Physical Sciences Research Council (EPSRC).
Related Internet Links
The BBC is not responsible for the content of external sites.