Dutch ferret 'stows away' on Cambridge flight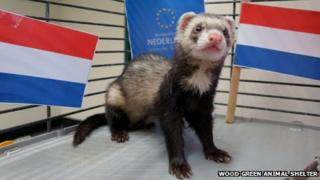 An animal charity is trying to locate the owner of a Dutch ferret which it believes may have "stowed away" on board a flight to Cambridge.
The pet, named Vincent by staff at Wood Green Animal Shelter, has a microchip registered in the Netherlands.
He was found in a Marshall Aerospace hangar on Sunday. Staff believe he may have boarded a flight from Eindhoven.
Under animal transportation laws, UK immigration officials have been told of Vincent's unexpected arrival.
The ferret was taken to the Cambridgeshire animal charity on Monday, where a vet confirmed Vincent was "a well cared for pet".
'Bright and playful'
However, his microchip does not contain sufficient details to allow staff to track down his owners.
"The problem is, we don't know whether Vincent has managed to find his way to the UK on his own, or whether his family have in fact moved over with him," said the shelter's Marie Channer.
"Vincent is a bright and playful ferret, and we hope that by appealing to the public we will be able to reunite him with his family as soon as possible."
Terry Holloway, from Marshall of Cambridge, said finding a ferret in a hangar was "an absolute first in our 104-year history".
UK immigration rules state that Vincent must stay in quarantine for three weeks, after which, if his owner has not been traced, he can be rehomed.