Boy dies in River Cam near Fen Causeway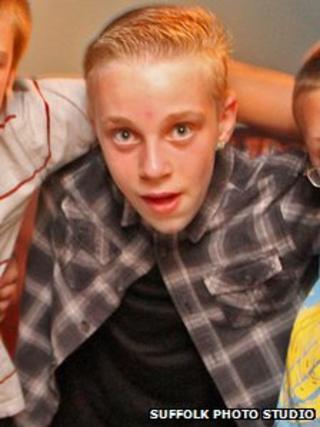 Tributes have been paid to a 12-year-old boy found dead in a Cambridge river.
Andrew Collings' body was recovered from the River Cam at about 03:00 BST.
Andrew, a pupil at Netherhall School in the city, had gone into the water near Fen Causeway shortly after 18:00 on Tuesday, but failed to resurface.
Head teacher Caroline McKenney said: "The school extends its deepest condolences to Andy's family."
She said: "When the time is right, we will be speaking to his family and students at the school to find a suitable way of remembering him."
'Never forgotten'
Flowers were left close to the area where his body was found, and friends left messages on his Facebook page.
One read: "Rest in peace budd." Another said: "You are always in our minds [and] never will be forgotten."
Andrew had been playing near the water with friends on Tuesday evening.
Donna Frost, whose son Charlie had been with the group earlier, said: "Charlie feels terrible because he... came home for his tea.
"He thinks if he'd stayed he may have been able to save him, but perhaps he would have got in trouble himself."
She said friends and neighbours were "all cut up about it" and described Andrew as "such a lovely lad".
Rescue sleds
The fire service and police helicopter were involved in the search for Andrew, which lasted several hours before being scaled down at about 21:30.
The operation also included the East of England Ambulance Service and a medical crew from the air ambulance service.
Water-rescue officers from Cambridgeshire Fire and Rescue Service searched a 650ft (200m) stretch of the river at Fen Causeway in Newnham.
A spokesman said: "Tethered swimmers and rescue sleds were used, and aided by other emergency services and a police helicopter.
"At 21:10 BST the service handed the search and rescue operation to Spartan."
Spartan is a Huntingdon-based private company that supports the emergency services in water-based rescue operations.