Peterborough family die in Afghanistan crash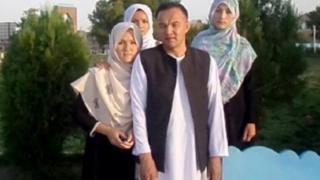 A UK couple and their four-year-old daughter have died in a car crash in Afghanistan, the Foreign Office has confirmed.
Habibullah Kazemi, 42, his wife Habiba, 41, and their daughter Mahdia, of Peterborough, Cambridgeshire, died in the crash in Kabul.
Two other children, a son and daughter, were injured in the crash.
The Foreign Office said the crash happened on 16 August and it was "providing assistance".
Another daughter, who remained in Peterborough while the family travelled to visit relatives in Kabul, said she was devastated at the loss of her parents.
Reihane Kazemi, 21, said: "I cannot believe what has happened. At the moment all I can think about is my brother and sister injured in hospital."
Nephew Shuab Ahmed Nawraz said many people in the city's Afghan community were grieving for a "loved and well respected" family.
He said: "I loved them like close family members. All loved them like a father, mother, brother and sister.
"Habibullah was a lovely and good person for our community and for all people in Peterborough."