Peterborough Prison death 'not preventable', report finds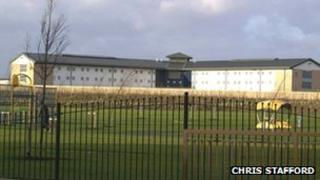 The death of an inmate in a violent attack at Peterborough Prison could not have been prevented by the jail's mental health team, a report has found.
One of the prisoners who killed Brian Haynes in 2008 was known to be violent, but his role in the killing could not have been predicted, it said.
But the investigation found the care he received was "at best cursory".
Cambridge and Peterborough NHS Foundation Trust said it had already acted on the report's recommendations.
It was produced by an independent panel commissioned by the NHS.
Although the report does not name individuals, the BBC understands it refers to death of Mr Haynes, 33, who died of a heart attack after he was beaten in his cell on 11 September 2008.
Three fellow prisoners - Sebastian Waller, Shane Farrington and Paul Jefford - were later jailed for his manslaughter.
It is not known which of them is the prisoner referred to in the report as "Mr A".
'Difficult working environment'
The report said Mr A was displaying a potential personality disorder when he sought help from the prison's Mental Health In-Reach Team (MHIRT).
But the team missed opportunities to help him, and he was twice assessed by people who were not qualified.
The unit soon faced a "very heavy caseload of some very vulnerable and mentally unhealthy individuals", the report found.
It said the team was isolated from the rest of the health trust and from other prisons, and there were "significant funding issues", contributing to a "very difficult working environment".
The report found that while Mr A's violent behaviour was predictable, it could not be anticipated that he would kill someone unless there was a contributory factor - in this case, Mr Haynes's pre-existing heart disease.
The panel did not believe Mr Haynes's death could have been prevented by the MHIRT.
Cambridge and Peterborough NHS Foundation Trust, which provides health services in Whitemoor, Littlehey and Peterborough prisons, said that the care it provided had changed "a great deal" since 2008.
It said it had commissioned its own independent review in 2009 and had drawn up an action plan to address the latest recommendations.
"Patient care is our number one priority - whether they are in our wards, in the community or in prison - and we will always co-operate with local authorities and other independent agencies to ensure we are delivering the highest quality services," it said.