Littleport house fire victim named as Toby Satchell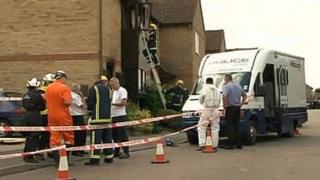 A man who died in a blaze at his home in Cambridgeshire has been named.
Toby Satchell's body was found after crews spent seven hours tackling the fire in Kingsmead Court, Littleport, on Sunday.
The inquest into the 28-year-old's death was opened and adjourned at Huntingdon Coroner's Court earlier.
The cause of Mr Satchell's death is currently unknown and will be subject to further analysis, the hearing heard.
Cambridgeshire's police and fire services said they had both completed their investigations and their findings had been passed to the coroner.
Mr Satchell's death is not being treated as suspicious.
'Overwhelmed'
Residents living near the fire reported hearing an explosion on Sunday morning.
No-one else was hurt in the blaze, the cause of which has not yet been disclosed.
Meanwhile, residents have come to the aid of a family living next door to Mr Satchell whose house was also badly damaged in the blaze.
Dean Smith, who was at home during the fire with his wife and three children, told the BBC he was "overwhelmed" by the donations and support of the local community, but did not want to discuss the matter any further.
His family has been offered items including kitchen appliances, clothing and toys and nappies for the children.