Peterborough's 'obese' ducks put on no-bread diet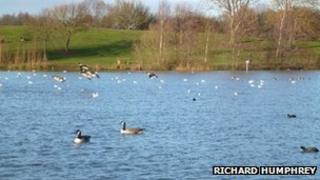 Ducks living in a park in Peterborough have become "obese" after being fed too much white bread by visitors, a conservation officer has said.
Chris Park, who works at Ferry Meadows, said the reserve was providing pellets for people to feed to the birds, in an attempt to control their weight.
"If you ate white bread all day, every day, you'd get fat too," he said.
A British Trust for Ornithology (BTO) spokesman said it was also concerned about birds eating too much bread.
Mr Park said he was also seeing a number of birds in poor health, which he also put down to their diet.
'Can't fly'
"The ducks aren't getting the right nutrients," he said.
"Ours are getting obese, but we're also seeing a lot of young ducklings and goslings with deformities, such as angel wing, where the feathers don't grow properly, meaning they can't fly."
He hopes the park's new feeding station and pellets will encourage people to give the birds more suitable food.
Papworth Hospital in Cambridgeshire is also concerned about the weight of ducks on its pond.
The visitor shop sells packets of bird seed, but one member of staff said: "We're limited in how many bags of that we can sell, because the ducks so well-fed, they're over-fed. In a way they're on diets."
Graham Appleton, from the BTO, said: "Quite a few people are worried about how much white bread is being fed to ducks, so we're trying to encourage a more natural diet - nuts, fruit and seeds - where possible.
"When you've got ducks on a pond, that's all they're doing, sitting on the pond and eating, so they do tend to eat too much food and gain that extra weight."