RAF Wyton and Pathfinder Force veterans are honoured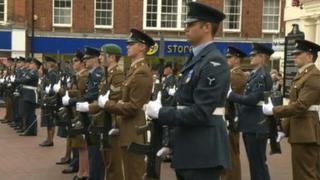 RAF personnel past and present have paraded through the centre of Huntingdon to be awarded the freedom of the district.
The honour was conferred upon RAF Wyton and its Pathfinder Force veterans.
During World War II they flew from the Cambridgeshire airfield, dropping flares to guide RAF bombers to their targets.
The base's role is transforming and it will shortly become the headquarters of the Joint Forces Intelligence Group.
Within a year nearly 2,000 personnel are expected to be stationed there.
The base was awarded the freedom of the Borough of Huntingdon in 1955.
Saturday's ceremony gives it and its veterans the freedom of the district of Huntingdonshire.
"It signifies both the historic connection between RAF Wyton and the local community and looks very much towards the future," said Brig Nick Davies of the Joint Forces Intelligence Group.
The Pathfinder Force was formed at RAF Wyton and aircraft from the base took part in the last Bomber Command raid on Germany.
Fl Lt Colin Bell, a Pathfinder Force veteran, said: "There was added danger but it was a job that had to be done.
"Somebody had to do it so we just got on with it."