Cambridge cyclists trial priority traffic light scheme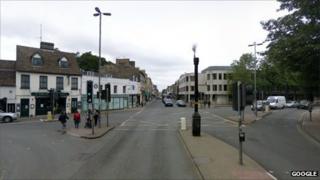 Traffic lights giving priority to cyclists over other road users are to be trialled in Cambridge.
The lights, which give bicycles a five-second headstart, will be installed at a four-way junction on Hills Road.
They are part of the county council's £900,000 improvement scheme in the area which should be completed by autumn.
A Cambridge Cycling Campaign spokesman said priority cycle lights had proved a success elsewhere in England and should be used throughout the country.
Councillor Ian Bates, county council member for planning, claimed Cambridgeshire was "the cycling capital of the country", and added that civic leaders "recognise the importance that bicycles play in reducing congestion, improving health and boosting the economy".
"This trial shows our commitment to get more people on their bikes," said Mr Bates.
Robin Heydon, from the cycling campaign, said the group would like to see the scheme rolled out across the country once the trial had been formally evaluated.
On Monday, Cambridgeshire's cyclists received a further boost when the government announced it was giving £4.1m to the county to fund a number of improvements including new segregated cycle routes.