Cambridgeshire Nene Valley steam train believed to have caused fire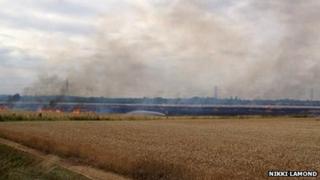 A crop fire near Peterborough is believed to have been caused by a spark from a passing steam train, Cambridgeshire Fire Service has said.
Five crews tackled the 40-acre blaze in a field in Ailsworth on Wednesday afternoon.
All steam train journeys at the Nene Valley Railway have been halted and an investigation is being carried out.
Trains were halted earlier this month because of a "high fire risk" but were started again after a period of rain.
Diesel trains are now being used at the tourist attraction, instead of steam engines, but a children's steam train will run at the weekend on a short length of track near already-harvested fields.
During August the railway usually runs four steam train trips on each of the five days it is open to the public.
A decision on whether to run steam engines next week has yet to be taken.