Cambridgeshire 'pirate island' plans back to drawing board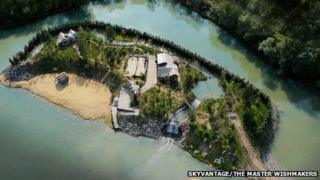 A family who erected pirate-style buildings on an island without first seeking planning permission, did not have permission to create the island either, a council has said.
"Challis Island", near Landbeach in Cambridgeshire, was created for the Dickerson family on their own land.
They applied for retrospective permission for the buildings in July.
The application has had to be amended to include the island and a public consultation on the plans extended.
Pirate tavern
Kettering-based company The Master Wishmakers created the island within a lake on the site of a former quarry on the family's land.
However, no planning applications were submitted for the five buildings, which include a "mock" pirate tavern.
Retrospective permission was sought and a 21-day consultation began last month.
A spokesman for South Cambridgeshire District Council said when planning officials visited the site, they decided the island on which the buildings sit also needed permission.
The family said the island was created from material dredged from the lake when the family cleaned it up.
The council spokesman added: "Rather than ask the applicant to start again, we have agreed with them to amend the application, and a new consultation has begun on the retrospective application for both the buildings and the island."
The consultation ends on 22 August.