Cambridgeshire PCSO roles reviewed after 10 years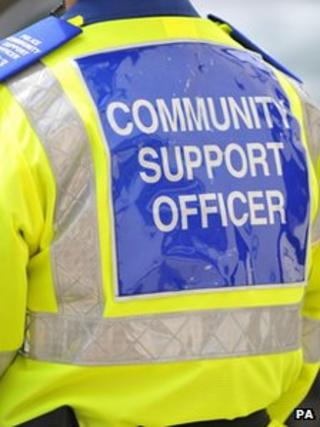 A union has urged people to support Police Community Support Officers (PCSOs) in Cambridgeshire as a review of their role takes place.
Cambridgeshire Police has launched a public survey of its 168 PCSOs.
The force said it was not a cost-cutting exercise, but to ensure it had the "right resources" in the right areas.
A Unison spokesman said any changes to PCSO deployment could leave some areas "without a visible police presence".
Cambridgeshire Police said the survey was designed to help them understand how their PCSOs - first introduced in 2002 - "can best serve the needs of the public and the organisation in the future".
'Intelligence gatherers'
The support officers are meant to help reduce crime and anti-social behaviour as well as reassuring and advising the public.
Ch Supt Andy Hebb, said: "[The survey] is not about saving money per se.
"The public sector, including the police service, is facing some really challenging financial cuts.
"Its absolutely incumbent upon us to make sure we've got the right resources, in the right places, doing the right jobs - and to an extent that is behind the review."
Chris Blewett, Unison branch manager, and a PCSO in Cambridge, said: "PCSOs are very much the eyes and ears of the police force.
"We obtain lots of intelligence, especially drugs-related, which is fed back to the officers.
"A lot of people... open up to us because we are very much part of the community we work in."
He said if PCSOs "were taken out of the equation", some towns and villages in Cambridgeshire might only see a police officer if they requested one, and neighbourhood and anti-social behaviour could increase.
"It doesn't actually bear thinking about," he added.