Cambridgeshire pensioners' 'shut up and go away' hate mail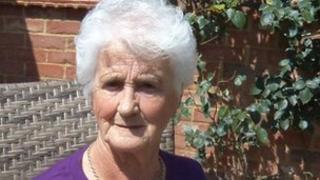 A 78-year-old woman told not to talk at future council meetings says she has now received a "malicious poison pen" letter telling her to "go away".
The anonymous note sent to Pat and Bob Nicholls, of Shepreth, Cambridgeshire, accused them of causing "pointless fuss" for parish councillors.
Last month, Mrs Nicholls was told her "continuous talking" had disrupted parish council meetings.
The council said it was aware of the letter and would investigate if asked.
Cambridgeshire Police said the couple had contacted them about it, but added "no offences were found to have been committed at this stage".
However, the anonymous letter, which ends: "Why don't you just shut up and go away, we are all fed up with you", has "deeply upset and worried" the couple, Mrs Nicholls said.
"I think it's intended to frighten us and to stop us going to meetings."
Sending the letter anonymously was "very cowardly", she added.
The parish clerk, Charles Cook, said he had been told about the letter, but added: "It's anonymous so I cannot really comment, but I am concerned that anyone should get a letter like this.
"I understand the police have been told, and we will do what we can, if requested, to find out who sent it."
In July, the chair of Shepreth Parish Council wrote to Mrs Nicholls in respect of her "conduct" at meetings, requesting that in future she speak only during the public forum.