Addenbrooke's Hospital brings smoking ban back after five years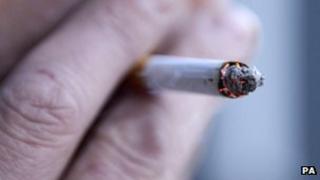 A hospital is re-introducing its smoking ban - five years after lifting a previous ban because people were ignoring it.
Addenbrooke's in Cambridge said the ban would return across its site in 2014.
The previous ban ran from 2006 to 2009, but was withdrawn when it was ignored.
At the time, the hospital said some visitors needed to smoke outside at times of stress but managers said they had a responsibility to re-introduce the ban on health grounds.
Patients, visitors and staff can currently smoke in designated outdoor shelters.
People also smoke in the hospital bus stops and the ban will extend to these as well.
'Smoke responsibly'
Dr Michael Knapton, a non-executive director on the hospital's board, said: "It seems curious to have smoking banned in shopping centres, but not in a hospital and I think taking a lead on this is the right thing to do.
"We're in a different place than we were in 2006 and I think culturally we're starting to de-normalise smoking and we don't expect to see it in public places.
"Clearly we're going to have to think about enforcement in a supportive and sympathetic way and my hope is people will agree not to smoke on site but, if they don't, we will have to escort them off the premises."
Pro-smokers rights groups criticised the moved to stop people being allowed to smoke outdoors.
Angela Harbutt, from the Freedom Organisation for the Right to Enjoy Smoking Tobacco (Forest), said: "I think it's perfectly reasonable to encourage people to smoke responsibly and away from hospital main entrances and other areas.
"We are adults and we make adult choices and many of those might be unhealthy, including what we eat.
"We know a lot of patients are smokers and it's a stressful time for them and I do worry that people will be forced into unlit areas late at night."
The ban will be introduced on 1 January.