Cambridgeshire Nene Valley steam trains halted as 'fire risks'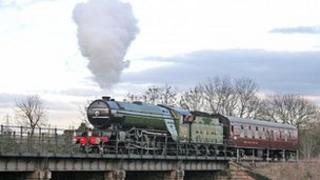 The majority of steam train journeys at a Cambridgeshire attraction have been cancelled after fears engine sparks could set light to dry crops.
Bosses at the Nene Valley Railway said the "high risk of line-side fires" meant the ban could continue until nearby crops are harvested.
Diesel trains are now being used on the line between Wansford and Peterborough.
A company spokesman said the "steam ban" was necessary because "the ground is just too dry to risk it".
Occasional steam services are still operating on the line between Wansford and Yarwell, he said.
During August the railway usually runs four steam train trips on each of the five days it is open to the public.