London Triathlon last place triumph for Cambridgeshire paraplegic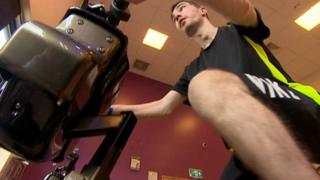 A man who was "completely paralysed" after breaking his neck has said he was elated to have come "stone-dead last place" in Saturday's London Triathlon.
Matthew Hawksley, 25, from Huntingdon, Cambridgeshire, broke his neck in June 2011 and had to be revived four times.
Later he had pneumonia, MRSA and cancer, all of which he recovered from.
After training for six months, he completed a swim, cycle ride and walk in two hours and 38 minutes, raising £1,500 for spinal and cancer charities.
The former welder, who describes himself as "technically a paraplegic", believes he is the "luckiest unlucky man" after apparently cheating death eight times.
'Slept for days'
However, he said he had been determined to "crack on with things" and take part in the Virgin Active London Triathlon.
Mr Hawksley, who was a keen triathlete before breaking his neck in a diving accident, said: "I wanted so much to take part even though I was not sure I could finish it."
He competed against "a few hundred people" in the Super Sprint event, supported by his friend Patrick Newsome.
"Everyone who passed me - and that was pretty much everyone - just kept telling me to keep going," Mr Hawksley said.
"My only goal was to finish, and I did. Stone-dead last, but I was elated.
"After that I slept for about three days," he added.
Mr Hawksley said he was now "chucking a few ideas around for what to do next".
"Perhaps a cycle ride to the coast, kayaking across the Channel and cycling to Disneyland Paris," he said.
"I'd like to raise money so perhaps terminally-ill children can have a few days' holiday there, but it's just an idea in my head at the moment."
He added: "I'm just glad to be doing what I'm doing, with the gift I've been given."