Cambridge heatwave 'kills' hundreds of fish in River Cam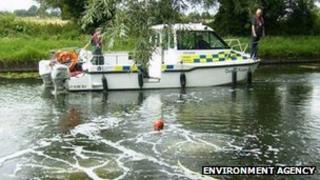 About 300 fish died after oxygen levels fell in the River Cam at the weekend, the Environment Agency has revealed.
The fish were found between Milton and Upware in Cambridgeshire.
The cause is still being investigated but the agency said hot weather had reduced oxygen levels in a number of other rivers, resulting in fish deaths.
Hydrogen peroxide is being pumped in to boost levels. People have been warned not to use that stretch of the Cam as the chemical can irritate the skin.
"Normally oxygen levels would be at about 100% in a river," Kye Jerrom, fisheries officer for the agency, said.
"We begin to get concerned when it drops to about 40%. Here, it's at 10%.
"Below that, it's critical, so we really need to move quickly."
The agency will be carrying out the work until the end of the week.
Warning signs will be erected between Baits Bite lock and Horningsea, and river bailiffs will be patrolling the area.