Toxic blue-green algae closes Cambridgeshire sporting lake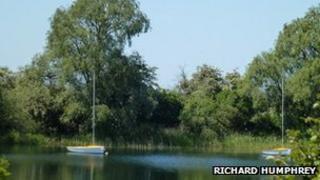 All water sports at a Cambridgeshire activity centre have been suspended after "significant levels" of toxic blue-green algae were discovered.
The lake at Mepal Outdoor Centre was closed on Monday when staff suspected the algae was present. Environment Agency tests confirmed it on Tuesday.
The algae can cause skin rashes and vomiting if swallowed. Its toxins are also dangerous to animals.
A centre spokesman said "thousands" of summer bookings could be affected.
The 20-acre (eight hectares) lake is used by school groups, sports clubs and members of the public for activities including canoeing, kayaking and sailing.
'Poisonous to humans'
Centre administrator, Graden Smith, said that although land-based activities were unaffected, the lake could remain closed for several months as the algae would have to disperse naturally.
"The only real way to get rid of it is to wait for cooler weather," he said.
"The algae might disappear within a week or two, but it could take much longer."
Summer is peak season for the centre and Mr Smith said "literally thousands" of people, including school groups, had booked sessions this year.
The Cambridge Triathlon is also due to take place there on 11 August.
Mr Smith said it was "unlikely" the swimming stage would be able to go ahead.
The cyanobacteria - commonly known as blue-green algae - can grow in any type of water and usually occurs in mid to late summer.
The Environment Agency website describes its toxins as "poisonous to humans". They can cause skin rashes, hives, blisters, joint and muscle pain, severe abdominal pain, diarrhoea or vomiting, but cannot be passed from person to person.
The lake at Mepal Outdoor Centre will not reopen until the Environment Agency confirms it is clear of the algae.