Woodhenge in Cambridgeshire 'requires permission'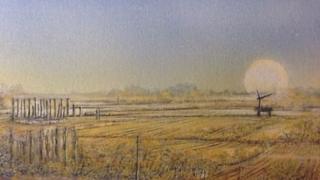 A farmer who has begun building a wooden version of Stonehenge as a tribute to his wife has been told he will need to get planning permission.
Woodhenge, a sculpture of 30 trees, is being built on Stephen Parsley's land in Woodwalton, Cambridgeshire.
Mr Parsley hoped it would be finished by 21 August, close to the first anniversary of his wife Judy's death.
Huntingdonshire District Council says the "substantial structure" will need retrospective planning permission.
Artist Derek Massey has designed work, which has an inner and outer circle of trees and could house theatre productions.
It is being built from one 200-year-old oak tree and 29 bog oaks on Mr Parsley's land at Woodwalton.
Mr Parsley was unavailable for comment.