Peterborough council spends £1.5m on solar farm project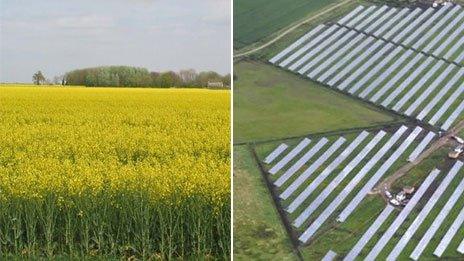 Opponents of a renewable energy park have said the £1.5m spent by a council on developing the plan so far is a "waste of money".
Newborough residents fighting Peterborough City Council's proposals discovered the figure after submitting a Freedom of Information (FOI) request.
The council has not yet received planning permission for the scheme.
It said the costs incurred to date are "a lot less" than the income the wind turbine and solar park could generate.
The council believes the project, on 900 acres (365 hectares) of its farmland, could generate an income of £30m net profit for wind power alone and more than £114m for solar and wind power over 20 years.
The FOI also revealed planning application fees of nearly £450,000, a feasibility study costing nearly £800,000 and legal fees of just under £30,000.
John Harris from the Newborough Landscape Protection Group said: "They've spent £1.5m up until the end of June and it's still increasing, yet we don't yet know if they'll get permission and if they don't it'll be a waste of money."
Leader of Peterborough City Council Marco Cereste said: "Given the scale and complexity of the proposals, the costs incurred to date are a lot less than the income that could be generated and are in line with expectations."
He added that "harnessing the power of renewable energy" will "generate income that can benefit every resident of our city".
The scheme was first proposed by the council last September.
In June, the council agreed to defer the planning decision until a later date to allow an archaeological survey to be completed.
Related Internet Links
The BBC is not responsible for the content of external sites.