Cambridge homeless couple's double burial money raised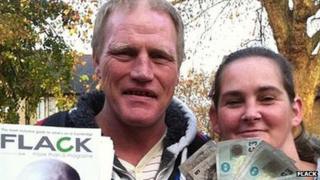 A charity has praised the "amazingly compassionate response" of people who raised enough money to bury an engaged homeless couple side-by-side.
Kim Reid and Jim Sinclair are thought to have taken drugs before dying on 16 July near Jesus Green lock, Cambridge.
Homeless charity Flack appealed for donations to bury the couple together, after Miss Reid's family said they could not afford two burials.
It said it raised £2,580.60 within 24 hours of its appeal appearing online.
Miss Reid, who was believed to be in her 30s, and Mr Sinclair, who was thought to be in his 40s, died on the banks of the River Cam, off Chesterton Road, despite paramedics' efforts to revive them.
The exact cause of their deaths has not yet been determined by the coroner, but police believe they may have taken an ecstasy substitute known as PMA.
Flack appealed for funds to bury the couple after Miss Reid's family said they could afford their daughter's funeral, but lacked the money to hold a funeral for Mr Sinclair as well.
Mr Sinclair's family has not been traced.
Kirsten Lavers, from Flack, said: "Their dearest wish is that Jim can join her and they can be buried together."
"[It is an] amazingly compassionate response," she added.
Ms Lavers said donations came in from as far afield as Australia and that Frances, Kim's mother, was "hugely relieved and very, very grateful".
Miss Reid's funeral is to take place privately on Tuesday. Mr Sinclair's funeral will be held later.
Ms Lavers added that the charity had exceeded its target by 103% and that all money donated would be spent on supporting Kim's family to ensure the "most dignified burial for both Jim and Kim - and not go into our funds."