Cambridge riverside homeless death couple: Double burial plea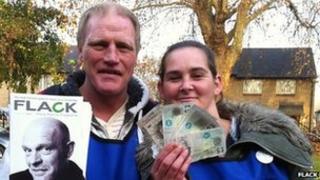 A charity is raising money to enable an engaged homeless Cambridge couple, who are believed to have died after taking drugs, to be buried side-by-side.
Kim Reid and Jim Sinclair died on 16 July near Jesus Green lock.
Miss Reid's family said the pair would want to be buried together, but they cannot afford two funerals. Mr Sinclair's family has not been traced.
Homeless charity Flack hopes to raise enough "to honour Jim and Kim's love for each other" with a double burial.
Miss Reid and Mr Sinclair died side-by side on the banks of the River Cam, off Chesterton Road, despite paramedics' efforts to revive them.
'City characters'
The exact cause of their deaths has not yet been determined by the coroner, but police believe they may have taken an ecstasy substitute known as PMA beforehand.
The drug is known to cause extremely high temperatures, hallucinations and convulsions.
The couple were due to marry in September.
Kirsten Lavers, from Flack, described them as "well-loved city characters" who were trying to get their lives back on track.
On Thursday she set up a Just Giving fundraising page called "Jim Sinclair and Kim Reid - Rest In Peace Together".
Homeless charities and individuals have already donated half of the money needed to pay for Mr Sinclair to be buried with his fiancee.
Ms Lavers said: "Kim's grieving family really want to honour Jim and Kim's love for each other by burying them together.
"However, they are not wealthy people and they simply cannot afford the additional costs involved in burying Jim alongside Kim."
Miss Reid is expected to be buried close to her family's Cambridgeshire home on Tuesday. A double plot has been reserved.
Their deaths are currently being treated as "unexplained" by Cambridgeshire Police.
Results from toxicology tests could take several weeks, they said.
AMENDMENT: Earlier versions of this story indicated that PMA is a so-called "legal high", based on information from Cambridgeshire Police. However, PMA is classified as a class A drug. The story has been updated to reflect this.