Cambridge homeless double-drug deaths probed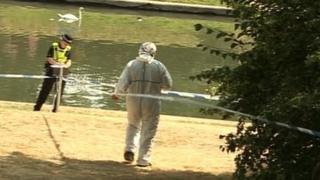 A homeless couple who died on a riverbank in Cambridge may have taken an ecstasy substitute drug before their deaths, police have said.
Kim Reid and Jimmy Sinclair died on Tuesday near Jesus Green lock. It is believed they had been taking drugs.
Ch Insp Chris Balmer said they were two of eight people thought to have used the same batch of PMA - a Class A drug - on that day.
The exact cause of their deaths has not yet been determined by the coroner.
Miss Reid and Mr Sinclair, both in their 40s, were described as "well-loved characters" within the city's homeless community and were due to marry in September.
Both became ill near the river off Chesterton Road early on Tuesday afternoon. They were treated by paramedics but died at the scene.
A man with them also became ill and was taken to hospital and later discharged.
Hallucinations and convulsions
The two deaths are currently being treated as "unexplained" by Cambridgeshire Police.
Results from toxicology tests could take several weeks, they said.
However, Mr Balmer said: "On initial evidence we are linking those deaths to substance misuse."
Eight people - including the dead couple - are thought to have taken a substance which may have been PMA," he said.
PMA is known to cause extremely high temperatures, hallucinations and convulsions.
"It comes in a packet marked 'not for human consumption' for a reason," Mr Balmer said.
"This is the same substance that was circulating in Glasgow and caused deaths up there.
"The message is, these substances are really dangerous.
"You just don't know what you're taking and unfortunately on Tuesday two people did pay the ultimate price."
Two men were arrested earlier this week on suspicion of supplying a class A drug, as part of the investigation into the deaths.
They have both been released on bail.
AMENDMENT: Earlier versions of this story indicated that PMA is a so-called "legal high", based on information from Cambridgeshire Police. However, PMA is classified as a class A drug. The story has been updated to reflect this.