Llywelyn Thomas murder case: Accused blame one other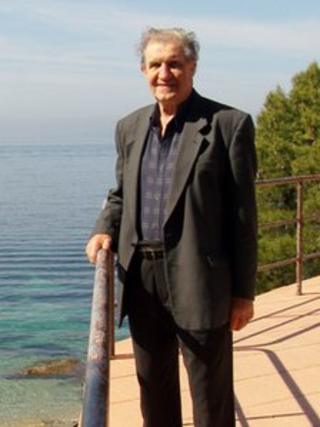 Two men who deny beating to death a pensioner in Cambridgeshire have each blamed the other for the crime.
Gary Smith, 21, is accused of murdering Llywelyn Thomas, 76, in his home after a forced entry on 17 December 2011.
At Cambridge Crown Court he said his nephew Frankie Parker, 26, persuaded him to help burgle the farmer's home.
He said Mr Parker carried out the savage killing while he was out of the room. Earlier Mr Parker told the court Mr Smith had carried out the crime.
The pair were on their way to buy cannabis on 17 December last year when they passed Mr Thomas's Chittering home, the court heard.
Mr Smith said Mr Parker suggested they "look at" the house, which "I took to mean he wanted to burgle the place".
"There was a Rover 75 and a Landrover Discovery parked outside. I looked at the motors and Frankie knocked on the door," Mr Smith said.
'Stamping and kicking'
"I saw Frankie hit him, he punched him and pushed him back into the house.
"He took the man off somewhere, I don't know where."
Mr Smith said he found some keys for the Rover and started the engine while he waited outside for Mr Parker.
"He didn't come back out so I went to look what was happening and saw Frankie stamping and kicking the old man."
Mr Thomas was found dead inside his home in Ely Road where he had lived alone since his wife died.
Mr Parker, of Nene Road, Ely, and Mr Smith, of the Fen Road travellers' site, Cambridgeshire, both deny murder.
Mr Smith also denies robbery, while Mr Parker admits this charge.
The trial continues.