Cambridge University's vehicle ready for World Solar Challenge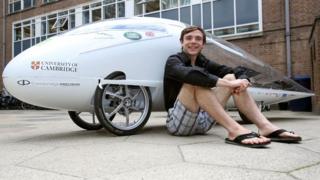 A team from Cambridge says its new solar-powered vehicle is ready for its latest attempt to complete a 3,000 km (1,860 miles) race in Australia.
The World Solar Challenge in October runs from Darwin to Adelaide.
Cambridge University's Eco Racing team said it had developed its lightest ever vehicle which weighs 120kg (265lbs).
The team failed to complete the previous race in 2011, blaming bush fires and adverse weather conditions, although seven other teams did finish.
Their latest vehicle, called Resolution, is designed to run at an average of 80km/h (50mph.
The winning time in 2011 was 32hrs 45mins by the Tokai University team from Japan.
'National heroes'
Keno Mario-Ghae, Resolution's team manager, is a second year engineering student at Girton College.
"The margin between first and second place in 2011 was just 30 minutes," he said.
"The narrowly-beaten Dutch team [TU Delft] are national heroes that previously won the race four times in succession, so we are not underestimating the strength of the competition.
"We are confident that Resolution will put us in pole position and showcase the cutting-edge of UK technology."
The cockpit of Resolution fits just one person but the four-person team will drive it in four-hour shifts in temperatures of up to 40C.
The team said it had created the 'world's most efficient' terrestrial solar array which tracks the sun as it moves and it had been testing the vehicle at Millbrook Proving Ground in Bedfordshire.
They finished finished 14th out of 26 in 2009, while in 2011 only seven of the 37 entrants were able to finish the race on solar power alone due to smoke from bush fires blocking out the sun.
The 2013 race has had 48 entries from 26 countries.